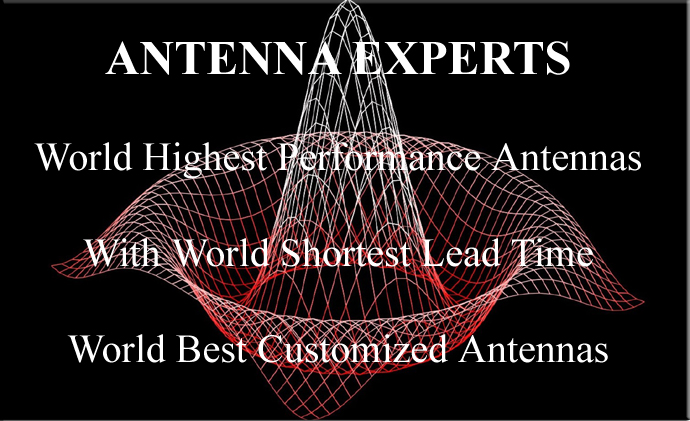 Antenna Experts an ISO 9001:2008 Quality Management Systems (QMS) & ISO 14001:2004 Environmental Management Systems (EMS) certified company, established in the capital of India, New Delhi and is well equipped with erudite, experienced, qualified personnel, technological expertise and advanced test equipments and instruments. Antenna Experts team of professionals is dedicated to providing innovative, reliable, designed-to-cost antenna solutions for today's telecom industry.


Antenna Experts is one of the leading Manufacturers and exporters of a vast range of RF Antennas for used with the Radio Communications for voice/data, digital & analogue communication applications. We strive to manufacture the best performing antennas while maintaining excellent customer satisfaction. Our antenna systems meet the international quality standards including many of them are complied with various military ( MIL ) standards.


Antenna Experts team has many years of combined experience in the design and production of wireless antennas. The antenna manufactured by Antenna Experts cover the RF spectrum from HF, VHF, UHF, Microwave and support countless mission critical military, air, sea, commercial, aviation, broadcast, navigation, satellite, ATC & CNI, C3I & C4I, GMDSS, TETRA & SCADA, UAV's, Drones, Ground-To-Air, Radio Relay, Satellite Tracking, NATO vehicular, NATO base station, Signal Intelligence SIGINT, Electronic Warfare EW, Radio-Controlled Improvised Explosive Device (RCIED) Jamming application, Manpack application, SATCOM, DME & Transponder, Glide Slope and Glide Path for ILS, ADS-B, ATC Mode-S, UAT, AIS application and voice & data communications applications.


Apart from the products listed in our website, Antenna Experts has a particular expertise in the design and development of special-to-type antennas, which are tailored to suit specific requirements and platform types. Antennas fabricated from the latest materials available today, give Antenna Experts the leading edge in producing international quality, reliable antennas for all types of requirements. Antenna Experts specialize in design and supply the world highest performance wide band antennas for 100% connectivity and reliability. Our antennas are tested and field proven by various armed forces, various international airport authority, various aircraft manufacturers, major defense suppliers and major airborne equipment manufacturers.


Frequency ranges cover HF, VHF, UHF and L-band across the 2 to 9000 MHz. range and are 100% final tested, inspected in-house to meet our "Zero Defect" quality policy. Our major clients are various armed forces across the Globe, all major fighter aircraft manufacturing firms, all major airborne equipments manufacturing firms, major international airports across the Globe, major aero space research firms across the Globe, all major defense equipments suppliers to Ministary of Defense including US, Europe & Israel.


Our exclusive range of products includes Aviation Band Antennas, Fiberglass Collinear Antennas, TETRA Antennas, HF Log Periodic Antennas, HF Broadband High Gain Vertical Conical Monopole Antennas, Defense Antennas, Quadrifilar Helix Antenna, Horizontal Polarized Circular Omni Antenna, Glide Slope Glid Path Antenna for ILS, Marine Band Antennas, Shipboard Antennas, Tactical Radio Relay Antennas, GMDSS Antennas, NATO Vehicular Mount Antenna, NATO Base Station Antennas, ATC Antennas, Signal Intelligence SIGINT Antennas, Electronic Warfare EW Antennas, HF Multi Wire Broadband Antennas, Manpack Antennas, Cross Polarized Log periodic Antennas, SATCOM Antennas, Ultra Wide Band Coaxial Dipole Antennas, FM Broadcast Antennas, Unmanned Aerial Vehicles Antennas UAVs Antennas, Horn Antennas, Dual Polarized Horn Antenna, HF multi wire broadband dipole antennas, Dual Polarized Log Periodic Antennas, Ultra Wide Band Discone Antennas, Grid Parabolic Antennas, Ground-To-Air Antennas, C3I & C4I Antennas, DME Transponder Antennas, ADS-B Antenna, MEMO Antenna for Drones and UAV, AIS Antenna, Stacked Dipole Arrays, Log Periodic Dipole Arrays, Directional Yagi Antennas, Earth Staion Satellite Tracking Antennas, RCIED Jammer Antennas, Side Mount Dipole, LHCP RHCP Helical Antennas for GPS L1 and GPS L2 Bands, Circular Polarized Antennas, Spiral Antennas, Dual Stacked Arrays, Quad Stacked Array, Broadband Ground Plane Antennas and Broadband Vehicular Mount Antennas.


Antennas manufactured by Antenna Experts are fully compliant with CE and RoHS directive whether it is for Domestic market, European market or International market. Customer can contact us via phone +91 9910035738 and/or via E-mail: ts@antennaexperts.in for any kind of technical help related to our products.


Antenna Experts utilize the latest in design software, manufacturing processes and test equipments. Antenna Experts designed and supplied various customized antennas as per the customer required specifications within a short turn around time. Any further customized requirements from existing and/or new customers are also welcome. Design and supply customized antenna systems to our clients are our top priority and that too on short turn around time.